A love wall for Harriet
Harriet's sister, Charlotte shares her experience of supporting Harriet to express her wishes. She also shares the beautiful and personal choices that Harriet and her friends and family made to create a funeral that was right for their unique circumstances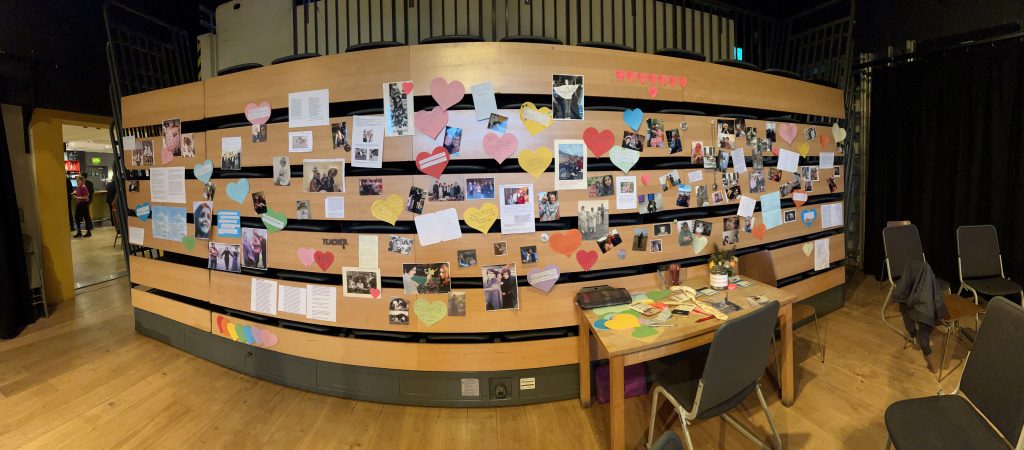 Harriet's wishes
Shared by Harriet's sister, Charlotte Allen
My sister Harriet was a larger than life character: talkative, funny, irreverent, with a big heart, a person who made an impression on people. She was also a straight talker and one of the aspects of life that she and I were always ready to talk about was dying, particularly our own. On the day after her shocking and unexpected diagnosis, she said to me 'I want to have a good death'. We had witnessed a close family member having the worst possible death – both the way of her dying suddenly, and the aftermath for the rest of the family – and so she was talking from painful experience.
In a nutshell, Full Circle, (along with St Gemma's, other professionals, and Harriet herself) were a crucial part of making sure that she had the best death possible.
It was wonderful serendipity that I already knew Ruth, having spoken to her at the Leeds Bereavement Forum on several occasions. She was warm, open and empathic, and I was clear that Full Circle would be my 'go to' Funeral Service when needed, although I didn't expect to be a customer quite so soon.
When I met Ruth again at the Forum earlier this year, and mentioned that sadly, my sister had been diagnosed with pancreatic cancer and given six months to live, she suggested that she and Harriet and I could meet up, if that appealed to Harriet. I mentioned this to Harriet, who jumped at the offer. The afternoon we spent together at Guiseley was a very special time for all three of us. The meeting put Harriet at her ease, and at the centre of the funeral plans, in charge of her own dying wishes. She had already found the coffin she wanted, and we talked about other details and possibilities. It also gave Ruth and I a head start when Harriet later died. Never reluctant to speak her mind, it was a massive advantage to know of Harriet's wishes and not to find ourselves asking, 'What would she have wanted'?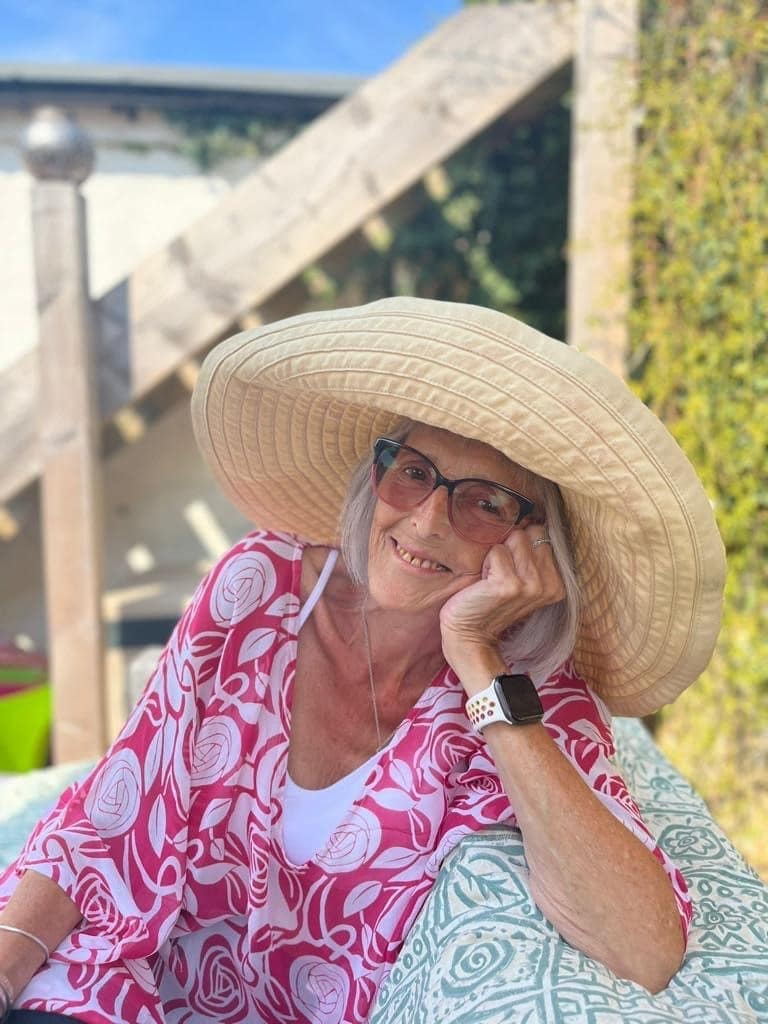 Fulfilling wishes
A gift to Harriet and those who love her
There are so many decisions to be made around a funeral, including flowers, music, eulogies, dress code, coffin attire, ashes and any religious involvement. –  aspects that Harriet had left us in no doubt about. In my own funeral wishes, I have said that most of the decisions don't matter – let my closest family do whatever they would find most comfortable. Now I realise that is not necessarily the most helpful guidance for loved ones at a time of great sadness and possibly shock. Having some ideas is SO useful, even if you don't follow the suggestions.
When Ruth realised that she would not be available on the day of the funeral, she gave us a choice: stick with her and Nic would take over on the day, or move to Nic immediately. Giving the family choices, and putting them at the centre of all decisions, so that the funeral is a truly personal one, is characteristic of everything Full Circle does. And so we had the benefit of two funeral directors, very different in personality, but both wonderfully sensitive to our needs, and both women that I would trust with my life (and my death!).
I think it is easy to forget how important the celebrant is in setting the tone of the service, and I have been to funerals where it is obvious – and disconcerting – that the celebrant / minister doesn't know the person. Harriet's celebrant was her first husband. They have always stayed in touch and maintained a real fondness for each other. He and Nic worked closely together and on the day he was pitch perfect. Him knowing Harriet well made a huge difference to the event.
There were two other unforgettable aspects to the funeral.  One was the cardboard coffin with a beach scene printed on it – sandy beach and horizon around the sides of the coffin, and seagulls flying, wings spread, on the lid. It was absolutely beautiful and very Harriet. (The only thing on her bucket list was to see the sea once again). My niece had cheekily suggested that we might place a bag of chips on the lid of the coffin (Harriet wanted no flowers and flowers would not have gone well with seagulls soaring). Nic's response, which was typical of everything that we spoke about, was to reply solemnly,, 'If that is what you would like, we can do that'. And we did!  As the hearse pulled into Lawnswood Crematorium, and 160 mourners watched the coffin being lifted out and placed on a dais for everyone to see, a bag of chips was unwrapped on the lid, to a round of applause. It set the tone for a moving and very individual event.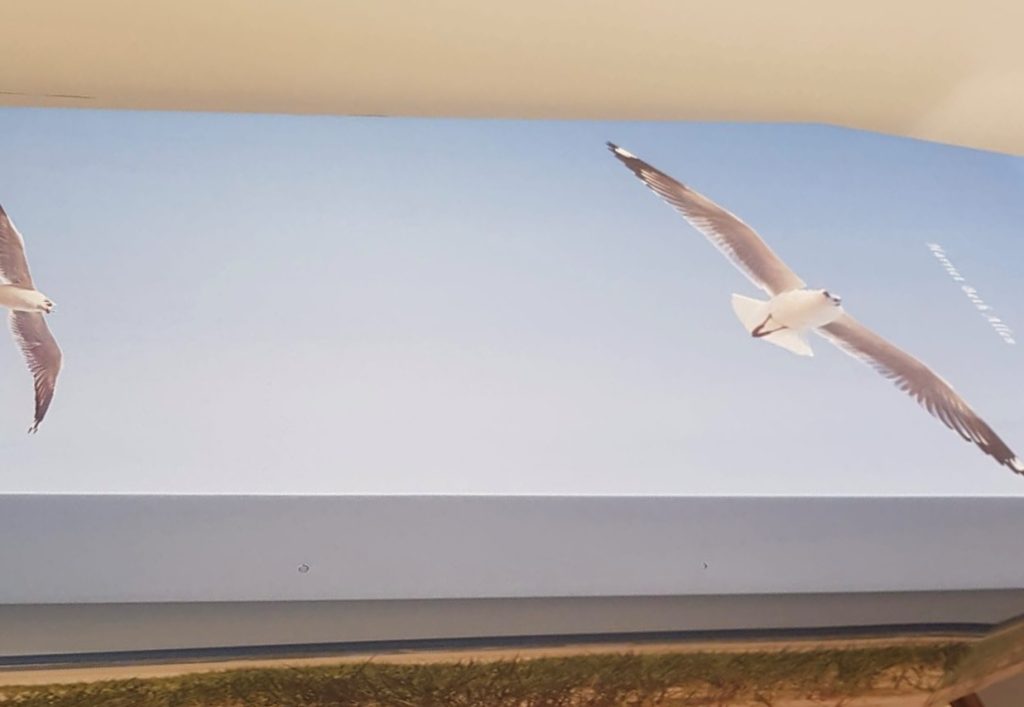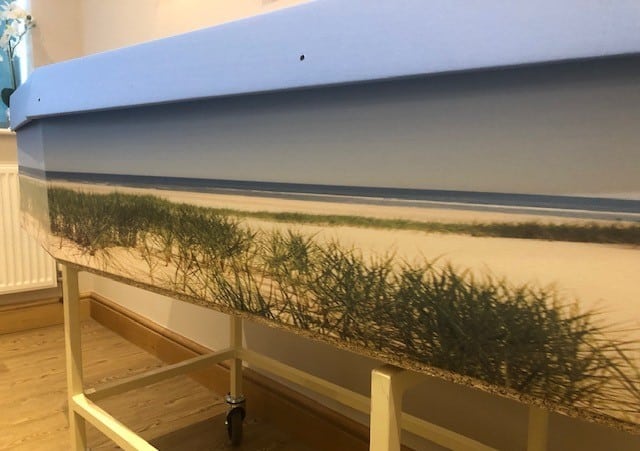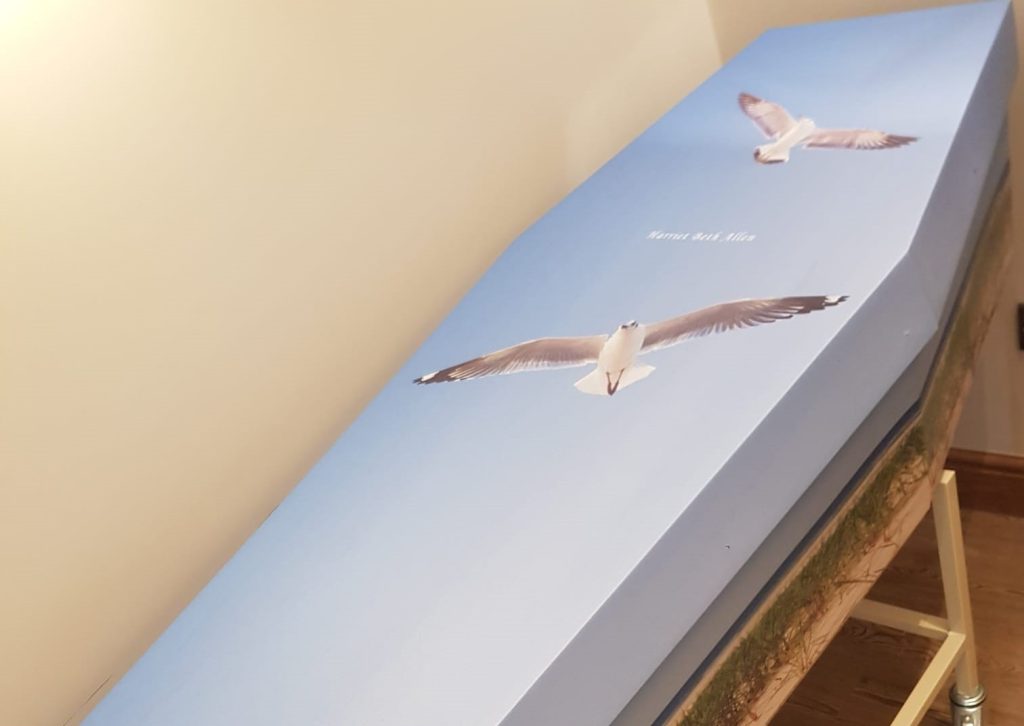 Harriet's own words
"A beautiful occasion"
The other heart-stopping moment was Harriet speaking her own words at the funeral. Ruth had mentioned that some people like to make an audio recording to be played after their death, an idea that would never have occurred to us, but which appealed to the drama queen in my sister. On hearing her voice, there was not a dry eye in that crematorium.
We also opted to have a video recording made of the entire event, which has since been sent to everyone who attended and those who couldn't. I hadn't realised just how much it would mean to me to be able re-watch that occasion in a quiet moment of my choosing.
In singing the praises of the heart-warming emotional support we received from everyone at Full Circle, it would be easy to under-estimate the value of their unstinting professionalism in making sure that everything ran smoothly, and that the all-important legal requirements were met on time. It was reassuring to have Nic's knowledge and guidance whenever we needed it, checking in with the Registrar and alerting us to an error made by the GP in registering the death.
By the time the day approached, strange to say, but we started to anticipate a beautiful occasion, full of Harriet's life, safe in the knowledge that if anything went wrong Full Circle, and all their amazing staff had our backs and would make it ok. They did more than make it ok: they made a day which was full of love and grief, tears and laughter, very special for a lot of people. We will never be able to adequately say thank you for all the professional competence and tender loving support.

We are truly grateful to Charlotte for sharing her experience to help and empower others – please support us to reach as many people as possible by sharing Harriet and Charlotte's story with anyone who you think will find it helpful.
If you would like to support to understand and express your wishes, or have any questions about funeral choices or how to arrange a funeral then we will try to answer any questions that you have – we are here to help.