A Green Funeral and Natural Burial for Ellie
Ellie (*not her real name) and her family cared deeply about the environment. Before she died, they had spoken in detail about the type of funeral she wanted.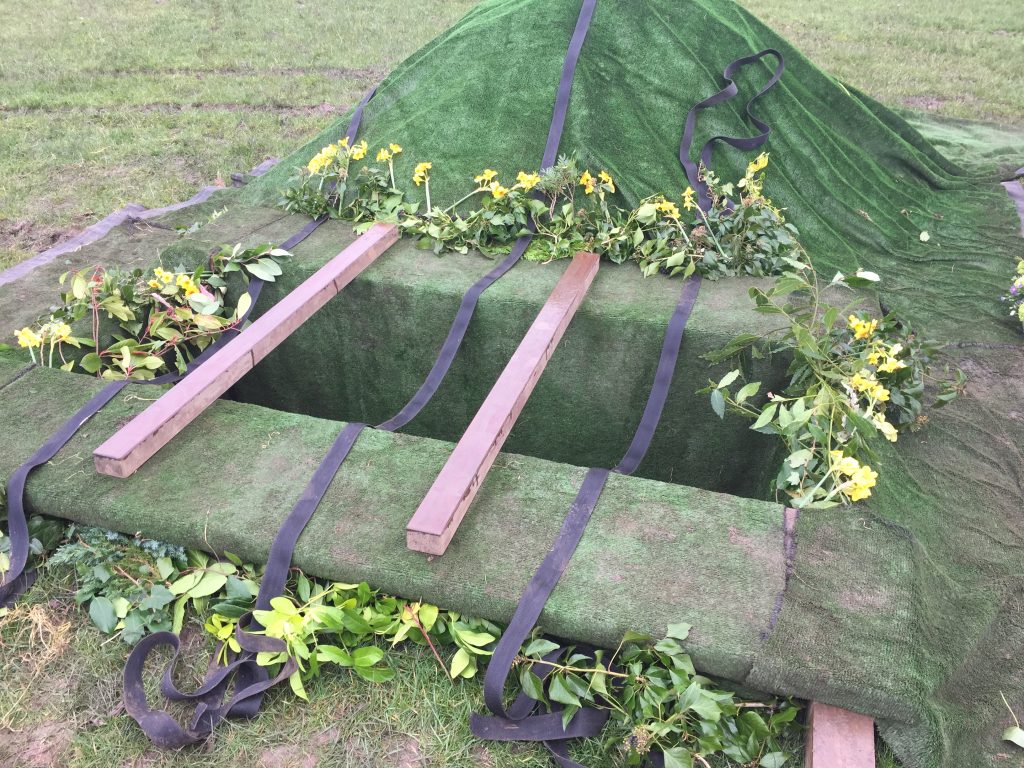 Ellie (*not her real name) and her family cared deeply about the environment. Before she died, they had spoken in detail about the type of funeral she wanted. Ellie and her family wanted to make sure that she could have a funeral that was aligned with her values and very much guided by what she wanted.
There were many things they had already thought about before they approached us and we were able to expand on the ideas that they already had and share some suggestions which were in keeping with what Ellie told us was important to her.
Ultimately our main role was then to provide guidance and support to ensure that Ellie's family were able to create a dy that reflected the things that were important to Ellie and her family.

What choices did they make?
Minimising the impact that the funeral had on the environment was a key driver for all the decisions that Ellie and her family made about her funeral.  Having this clear direction from Ellie made it much clearer for her family and working hard to make sure that Elle's wishes were fulfilled was clearly really important to everyone involved.
Ellie's family chose to have a natural burial at Tarn Moor, using a shroud with a homemade cover that Ellie had made with the help of her family and friends.
They used the Full Circle Funerals 100% electric ecohearse and only had a small number of attendees to minimise the environmental impact of travel associated with the funeral.
On the day of her funeral, Ellie was placed in a hand-made shroud which she had made with her family before she died.  The shroud was made from natural materials and everything that was in the shroud with Ellie was fully biodegradable and natural – which is really important in natural burial.
As Ellie's family decided to conduct the service themselves, we had only a small amount of input on the day as we helped to bring some gentle structure. Everything was kept very simple, with no order of service and beautiful, seasonal flowers that had been picked from Ellie's garden, which were placed in the grave with her. Ellie's family acted as pallbearers and chose some natural essential oils to drip onto the shroud cover.
Ellie and her family chose not to have a traditional wake on the day of the funeral because the burial location was a distance from the village where they lived and they were keen to minimise the carbon footprint associated with travelling to and from the funeral. Instead they arranged a memorial service a few days later in the village, where people could easily walk to the venue.

Making everything possible
Ellie's family were clear about what they wanted for the funeral ceremony but hadn't made any decisions about where it would take place. We were able to talk to them about the possibilities so that they could choose somewhere that would be a good fit for the kind of ceremony they wanted.
They hadn't considered how, or where, Ellie would be cared for after she had died and how this might affect some of the decisions they made.
We first met with Ellie and her family in hospital before she died and spent time discussing what was possible. They then had time to reflect carefully on our conversation before coming to Full Circle Funerals in Guiseleyto spend time with her  once she was in our care and talk through their final choices.
We were able to listen, support and provide practical and helpful information to make it as easy as it could be for Ellie's family to arrange the funeral she would have wanted.

What made this funeral personal and memorable?
David Billington of Full Circle Funerals supported the family and friends throughout as they fulfilled her wishes and created a green funeral and natural burial, respecting the environment that meant so much to her and her friends and family.
David says: "I loved the handmade shroud that she had made with her family and friends prior to her death. I thought this was a really special touch that created a deep connection on the day of the funeral, with everyone present who had been a part of creating this."